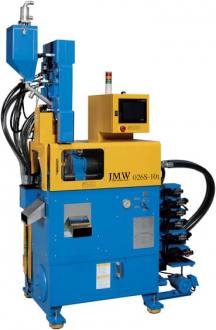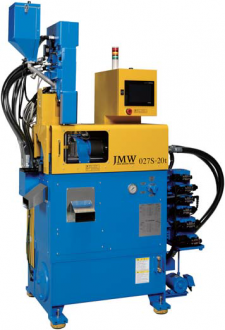 Popular JMW series of molding machines are specially designed to fulfill the requirements of injection molding for small parts. Besides the basic models of 5 tons and 10 tons clamping force machines, automatic unscrewing machines, metal insertion machines and micro molding machines are also available.

In addition to the basic lineup, for customers who need special machines for high end products, "Custom Built Service" is also available.
JMW Series Feature
All parameters are digital
Digital setting is available for mold open, mold close, injection and dosage positions. All pressure parameters, speed control and magnetic proportional control valves can also be set digitally. JMW machines provide high reliability for mass production.
90 molding setup memory
The built-in controller has 90 setup memory. These setups can be recalled at any time and this will save your time for the preparation of mass production.
Setup management software is also available. It is capable to connect 30 molding machines.
Low energy consumption and low noise
A JMW molding machine is very compact, so that it takes only minimum installation space. It makes factory layout extremely easy. Low noise and low energy consumption are possible. A very quiet internal gear pump, proportional magnetic valves and accumulator are installed.
High speed injection
An accumulator is already installed on each standard models to boost up its injection speed. Machines are ready for high speed injection molding at any time.
Safety feature for operator and tool
Big advantage of JMW molding machines is its safety measures. Various fail safe devices and functions are integrated for hydraulic failure, temperature control and clamping related problems to protect tools and operators.
Capability of ecological and full automatic operation
The JMW machines are the best choice for 24 hour full automatic production. Unmanned overnight operation provides extremely high productivity.