Long awaited JMW's hybrid driven molding machine is now available. This series improves your working environment, profit and productivity.
An updated series of our best sellers: JMW-005S-10t、JMW-013S-10t、JMW-015S-5t, hybrid direct driven molding machines JMW-026S-10t and JMW-027S-20t are now available. There are many improvements including low energy consumption, quicker response and more.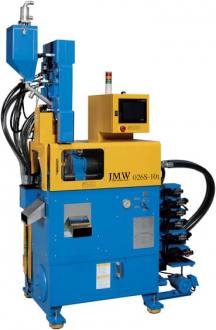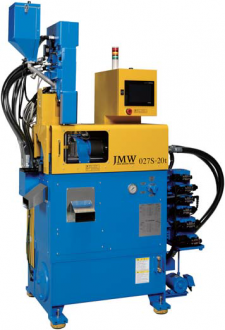 JMW HDD-sys (Hybrid Direct Driving system)
JMW HDD-sys is an innovative mechanical driving system where a hydraulic pump is driven by an AC servomotor directly. This driving system has precision control and faster response under high pressure environment compared with a conventional hydraulic system. In addition, operation noise level and energy consumption are extremely low.
Feature
Eco efficient
An amount of used electricity is about 1/3 of a conventional machine (comparison with a former model), and is almost equivalent to a full-electric injection molding machine.
Low heat generation
The generation of heat of hydraulic oil is suppressed, and the amount of oil is reduced to 2/3.
The oil-quenching system at the hopper mouth too. Now, no need for a water cooling system to run this machine any more.
Low noise (Single operation of standard model)
JMW-026S-10t = 57~60dB(A)
JMW-027S-20t = 60~63dB(A)
Precise control of injection unit
By the direct drive system of the pump using an AC servomotor, a high response and stability are also secured at the time of low-pressure and low speed situations.
Succession of experiences
The driving train is still hydraulic, and the same mold condition can be used from old JMW machines.
Life time total cost is reduced sharply
The running, preservation and other applicable cost are sharply reducible.
Online Catalog
| | |
| --- | --- |
| JMW-026S-10t / JMW-027S-20t Catalog 1.83MB | |