Introducing JWM molding machines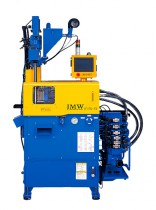 JMW's injection molding machines are best suited to the small quantity production of a wide variety of products. As sister machines to the popular JMW-005S-10t and JMW-012S-5t, JMW has added the JMW-013S-10t and JMW-015S-5t to its product line. These machines are designed for higher product quality, productivity and performance.
Feature
Overnight operations are available for 24 hours of full automatic production. JMW machines are designed for it.
By speeding up high cycle opearation, running cost can be minimized.
There are many safely measures installed in hydraulic system: temperature control and mold clamping units to protect operators, products and tools.
Compact design for easy handling.
Sufficient mold protective measures are integrated.
Optimized for full automatic production and ecological operation.
Diagonal 2 tie-bars design makes tool change easier than any other molding machines. It saves time for starting up sequence.
It supports profitable production.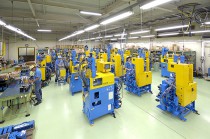 Online Catalog
| | |
| --- | --- |
| JMW-013S-10t / JMW-015S-5t / JMW-005S-10t Catalog 417KB | |