It gives power to small quantity productions.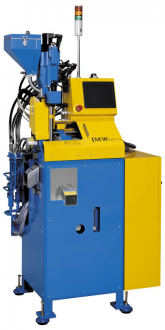 Easy operation and suitability for small quantity production. This is the machine enabling automatic production of the "Powder Gear" 1/1,000,000 g wt., the ultimate micro molding machine.
Feature

The outstanding operativity and high reproducibility


- 120 mold condition memory space is available.
- Accumulator is installed for high speed injection.
It corresponds to further rationalization, full automation, and minimization.
- 24 hour full automatic operation.
- Enables factory operation at low cost. Molding data is available to transfer via Ethernet (optional).


Super small size and safe
- Saves space and energy by its compact body.
- Safety measures are also integrated on hydraulic system, temperature controlling systems and clamping units.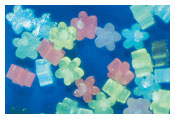 JMW molding machines are ready for optimization to fulfill your needs.
(Ex. Automatic metal insertion, automatic unscrewing molding, automatic products retrieving and cavity separation.)
JMW-017S-1.5t
Standard Equipment
Hopper drier
Mold temperature controller
90 mold condition memory space
Color touch panel
Air blow circuit (2 lines)
Accumulator
Signal tower
Automatic trouble detection
Alarm history
Work rate display
Cycle time display
Shot counter
Production counter
Cold start protection for screw
Automatic purge circuit
Heater line break detection
Line break alarm for temp. sensors
Low pressure clamping device
Mold protection device
Oil temperature, oil level watcher
Outer Dimension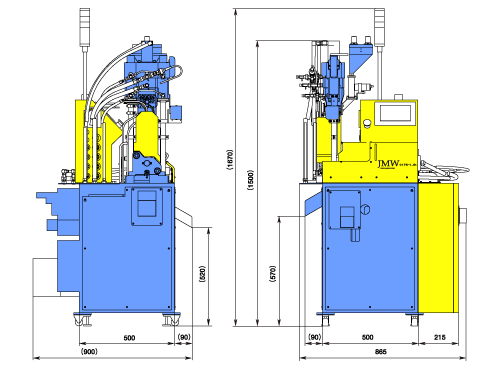 Spec.
| Parameter | Unit | Value |
| --- | --- | --- |
| Clamping force | kN(tonf) | 15.98(1.63) |
| Mold opening force | kN(tonf) | 9.8(1.00) |
| Clamping stroke | mm | 100 |
| Daylight | mm | 165 |
| Min. mold thickness | mm | 65 |
| Max. mold size | mm | 50×50 |
| Ejector stroke | mm | 15 |
| Screw diameter | mm | 14 |
| Injection capacity | cm3 | 2.3 |
| Max. injection pressure | MPa | 132.6 |
| Max. injection speed | cm/s | 29 |
| Injection ratio | cm3/s | 45 |
| Hopper capacity | L | 2 |
| Pump motor | kW | 1.5 |
| Heater | kW | 1.36 |
| Hydraulic oil | L | 15 |
| Machine wight | kg | 300 |
| Dimension | mm | 980×900×1,880 |
| | | |
Online Catalog
| | |
| --- | --- |
| JMW-017S-1.5t Catalog 397KB | |