What is Custom Built Service?
JMW (Juken Machine Works Co,. Ltd.) "Custom-Built Service" is to offer a special-purpose machines set by customer's request, based on the excellent standard JMW molding machines developed by years of experiences. By the optimization of production equipment, high stability and a low defective fraction are overwhelmingly brought to your mass-production. Please take a look at the PDF file for more details.
| | |
| --- | --- |
| Custom Built Online Catalog  1.4MB | |
Examples of custom built molding machines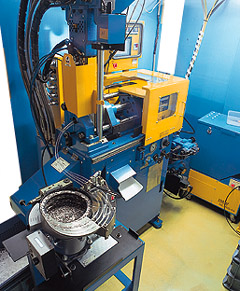 Insertion molding using two or more kinds of different materials, such as metal and resin, has been creating the world of new parts. However, unless it is an efficient special-purpose machine, an economical advantage cannot be employed.

In JMW, by using JMW-013S-10t and JMW-015S-5t as a base machine, we carry out design development of an exclusive special-purpose machine only for you. Worm and screw (outer and inner screw) full automatice special machines are also available.
| | |
| --- | --- |
| Metal insertion molding machine | Unscrewing molding machine |
| Lot changer | Pallet changer |
These models are exclusively developed for IPF2008 which also includes new basic models. Please download PDF files for more details.
Note : There is no plan to sell JMW-021S-20t and JMW-024S-10t at this moment.
JMW-015S-5t Custom-Buile molding machine 657KB
JMW-021S-20t

 Custom-Buile molding machine 

781KB
JMW-024S-10t

 Custom-Buile molding machine 

746KB